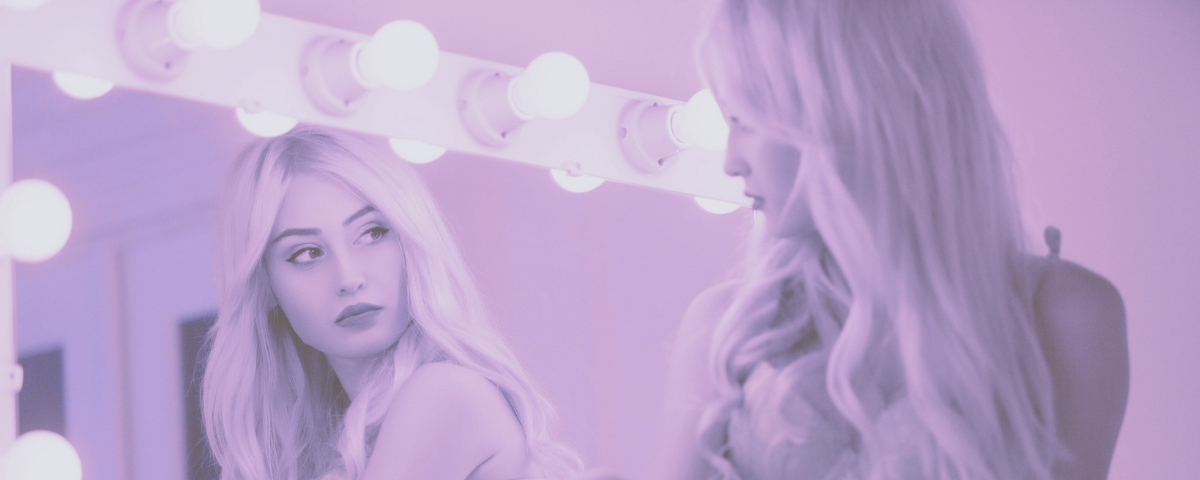 Boudoir photography is a type of portraiture that captures what many people consider to be some of the most intimate moments. It's an art form that depicts women in their natural state, confident and sensual.
Boudoir photography sessions are not about what your body looks like, but instead what it feels like on the inside. If you've ever wondered what boudoir photography is all about, here are a few things you should know before booking your next photo session:
What is boudoir photography and what are its origins?
Boudoir photography is a type of photography, which is done in both amateur and professional photography, that is used to capture erotic and sensual images of a person.
The word boudoir comes from the French word for 'cabinet' or 'private room', which was where women would retire to get dressed before going out on the town.
Boudoir art and photography first started to emerge in the 1920s. Although it was illegal to feature nudity in photographs, iconic photographers like Albert Arthur Allen, a French artist, continued to create masterpieces. Allen's work focused mostly on the natural shape of curvy women, who posed romantically in private dressing room settings, lounged on luxurious bedding, and wore expensive jewelry.
By the 1940s, the focus of this photographic style shifted to pin-up girls. The girls were dressed in stockings, corsets, men's ties, and hats. However, another major change was underway by the 1970s. At this time, boudoir photography began to make waves throughout the art world and magazines began to feature more photographs of real women instead of drawings.
From the 1980s onwards boudoir photography has gone through even more changes. Although initially, the models were hired by the boudoir photographer, today, it is more common for the subject to be a client who seeks out a professional boudoir photography shoot and photographer to create a private portfolio of images. This is demonstrative of a wider cultural shift towards female empowerment and a celebration of diverse female subjects.
Today, it is clear that boudoir photography has stood the test of time. The advent of digital photography has made it much easier to create boudoir-style images without the need for expensive camera equipment, lighting setups, or studios.
Moreover, thanks to social media platforms and content subscription services such as Instagram and Only Fans, models can share intimate photographs with followers and subscribers. Now, models can even mould themselves to look sexier, with cosmetic procedures and makeup to accentuate their features to look more sensual. Most models and influencers get lips and cheek fillers in Houston, TX (or elsewhere) to achieve a picture-perfect face that emanates sensuality and femininity. Boudoir photography is therefore not going anywhere anytime soon.
What is the difference between boudoir photography and other types of portraiture?
Boudoir photography is a unique genre of portrait photography because it's designed to be private, intimate, and provocative. Boudoir photos are meant to capture the essence of a woman in her most natural state – without any pretense, artifice or other forms involved. They tell the story of who she is: sensual, confident, and unapologetically sexy.
Boudoir photographers work with their subjects to find poses that suit them best, and they often use props such as candles or scarves for variety and context. The goal is not simply to take what could be an ordinary photo. Instead, boudoir photographers create images that stand out by portraying confidence and self-acceptance in women while accentuating their most alluring features.
What is the difference between boudoir photography and nude photography?
There are a few differences when it comes to artistic intent or composition, but generally speaking, the main difference is in the message that's communicated in each type of photo. Nude photos tend to be more sexual than boudoir photos, which are more personal and intimate. When done tastefully, both types of photography can be artistic, alluring and smoking hot – but they undoubtedly send different messages to the viewer.
What is the difference between boudoir photography and erotic/glamour photography?
These genres of photography tend to get confused because they share many similarities. However, the thing that distinguishes them is intent. Erotic/glamour photography shows more overtly sexualized images of women; often these photos are meant to be seen by the public. While boudoir photos can certainly be sexy, they are ultimately more low-key, in a private location and more personal – only depicting the subject for her own eyes (or for someone special in their lives).
The benefits of boudoir photography
Boudoir photography can have many amazing benefits for women. Whether it's for a special occasion, such as an anniversary or birthday, a wedding gift, or just because you deserve to feel beautiful and empowered about yourself, boudoir photography can be a great option. Here are just a few of the benefits of a boudoir shoot:
Increased confidence
One of the biggest benefits of boudoir photography is that it can help to boost your confidence. When you step in front of the camera and let yourself be vulnerable, you end up feeling more confident in all aspects of your life.
Showcase your body
Boudoir photography can be a great way to validate and showcase the efforts a person may have put into making their body look better. Certain women, for instance, who undergo cosmetic procedures such as breast augmentation or dermal fillings often don't fully realize the results until they can properly showcase them. A boudoir shoot can help them see the effects of their bodies fully – with the proper lighting, poses, outfits, and makeup, women can show off their bodies in a way that might even surprise them.
Experience a boost of self-esteem
This is one of the biggest benefits that women experience when they take part in a boudoir session. The boost of self-esteem you receive will benefit you in all aspects of your life too, not just in how you feel about yourself. Also, you could try a couples boudoir photography session to help keep the spark alive in your relationship and boost your self-esteem.
How to prepare for a boudoir photoshoot
If you're considering doing a boudoir photo shoot, you should first find a professional who does male or female glamour photography in London or in your area. Once that's done, there are four things you can do to prepare. Here are a few tips:
Feel Confident in Your Skin. Embracing self-confidence is a fundamental aspect of successful boudoir photography. Your inner emotions invariably shine through in the final photographs. If you find yourself lacking the self-assurance you desire, take proactive steps to cultivate it. For instance, if concerns about fine lines or wrinkles on your skin trouble you, exploring options like CO2 laser treatment in Raleigh, NC, or your local area, can be transformative. Similarly, if you seek fuller lips, becoming familiar with the possibilities of treatments like Botox can boost your self-image. Ultimately, feeling confident in your skin is not just empowering but also enhances the beauty and authenticity captured in your boudoir photos.

Allowing ample time for preparation is essential when planning a boudoir photography session. Beginning early gives you the opportunity to carefully consider your outfit, hair, and makeup, ensuring you look and feel your absolute best. If you intend to engage a makeup artist or secure a private dressing room, booking them well in advance is crucial to guarantee their availability. Selecting the perfect outfit that complements your body and personality requires thoughtful consideration and perhaps some shopping or tailoring. Planning your hair and makeup in advance allows you to experiment with different looks, ensuring you achieve the desired result on the day of the shoot. Moreover, a private dressing room provides a comfortable and private space for outfit changes and preparations, enhancing your overall experience. By prioritizing these preparations and starting early, you can step into your boudoir session with confidence, fully ready to capture your beauty and essence in stunning photographs.

Selecting the right outfit for a boudoir photoshoot is pivotal in capturing your confidence and sensuality. It's essential to choose attire that resonates with you and makes you feel incredibly comfortable in your own skin. Confidence and sexiness are not solely dependent on revealing clothing; it's more about finding an ensemble that empowers you. Opt for an outfit that aligns with your personal style and preferences. It could be a well-fitted, elegant dress, a lacy lingerie set, a cozy oversized sweater, or even your partner's shirt – anything that evokes that special feeling of self-assured allure. The key is selecting something that not only flatters your body but also reflects your inner beauty and personality. When you feel good about what you're wearing, it naturally radiates in your photos, resulting in captivating and authentic boudoir images. Ultimately, the choice of attire should be a reflection of your unique allure, making you the focal point of the photo shoot and allowing your inner confidence to shine through.

Practice your boudoir poses in advance. It can be helpful to have a few sexy poses in mind so that you feel comfortable in front of the camera. If you're lying down, try lying with your bottom leg straight and your top leg bent, with your knee touching the object you're lying on. This is a great way to accentuate your curves. Your body language will show through in the final images, so it's important you practice relaxing your face and trying all those different poses.

Relax and have fun. The most important thing to remember about boudoir photography shoots is to enjoy yourself, so be sure to have a few laughs. Try and push past any initial awkwardness and successful boudoir photographers will help you get comfortable anyway – so just lie back and enjoy your boudoir shoot.
Boudoir photography is all about empowerment and self-expression
Ultimately, boudoir photography is a type of portraiture that captures the sensuality and femininity of its subject. It often features women in lingerie or other intimate clothing and is typically intended for private consumption rather than public display. Above all, the boudoir style has an enduring appeal that is likely to stand the test of time.